The final edition of 247Sports' ranking of the top 150 basketball prospects in the class of 2022 is complete.
It's only fitting that we close the ranking of this outgoing senior class with a new No. 1 player, Arkansas-bound combo guard Nick Smith. After all, the top of the rankings has been a virtual revolving door that as of today has seen five different players hold the top spot.
Just a little under a year ago, Emoni Bates was overtaken for the top spot by his grassroots teammate Jalen Duren. They each enrolled early at Memphis, clearing the way for shooting guard Shaedon Sharpe to take the top spot. Sharpe then enrolled early himself, clearing the way for another guy who played with Bates and Duren on Team Final – Dereck Lively II – to take control of the top spot. Now Smith takes the No. 1 spot as his own, jumping up from No. 5.
CLICK HERE FOR THE FINAL 2022 PLAYER RANKINGS
Why is Smith No. 1? What could the class of 2022 have looked like without reclassification and who were the movers and shakers during the final update to the rankings?
Let's dive into it.
ARKANSAS SIGNS NICK SMITH TAKES THE TOP SPOT
Smith's ascension to the top spot has been a steady and continuous one since he first entered the rankings as a top 40 player in September of 2019. It has only been up from there as the 6-foot-4 combo guard at North Little Rock ( Ark.) High has methodically picked off and passed those ahead of him.
By November of 2020, Smith had cracked the top 25. He moved into the top 10 in September of 2021, made the top five earlier this year and now he stands above the rest in his class.
"It's cool, I mean I've never really been the No. 1 player in the nation before, "Smith told 247Sports. "It's been a good journey for me to show my talent on the court and it's definitely a blessing to see somebody think that I'm the No. 1 player in the class. "
So, what does Smith No. 1? Today's game dictates that guards must be capable of generating their own offense. Whether it be out of pick and roll action, with a clock shot winding down or just a situation where guy needs to go and make a play, if a guard can't generate offense on their own, their ceiling will be limited. Smith can do all of that and he does it with an electric first step, bounce at the rim and some flair.
Add in that he can score from deep, is just starting to grow into his long and lean frame and is an absolute sponge for soaking up knowledge about the game and you have a guy that 247Sports is banking on long term. Certainly, Smith has the mindset to match his new ranking and he's going to carry it onto the floor with him from here on out.
"Every time I step on the floor, I feel like I'm the best player there and that's just the mindset that my dad always brought me up on," said Smith. "Where I grew up, you were either going to kill or you were going to be eaten. So going into the game with that killer mentality and knowing the game of basketball and playing good basketball is one of the things that I try to go in with each time. "
MITCHELL (TEXAS) AND WHITMORE (VILLANOVA) CRASH THE TOP 10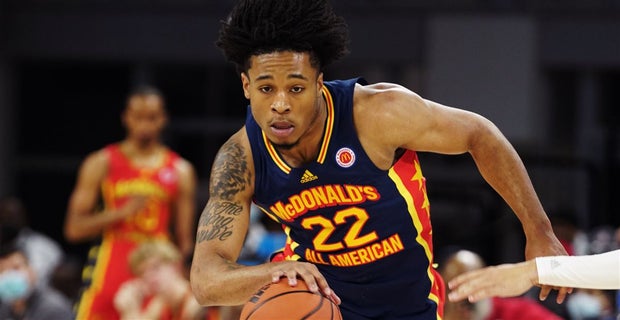 While Smith moved from No. 5 to the top spot in 2022, there wasn't too much change in the top 10. Dereck Lively's fall from No. 1 wasn't a big one, as the future Duke center landed at No. 2 and he was followed by future teammates Dariq Whitehead and Kyle Filipowski at Nos. 3 and No. 4. Rounding out the top five is Kentucky-bound combo guard Cason Wallace, who moved up to No. 5 from No. 6 thanks to a strong run through the post season All-Star circuit.
Also remaining in the top 10 were Oregon big man Kel'el Ware at No. 6, Baylor shooting guard Keyonte George (No. 8) and UCLA combo guard Amari Bailey (No.9).
Crashing the top 10 during the final ranking were Dillon Mitchell (Texas) at No. 7 and Cam Whitmore (Villanova) at No. 10. They're the latest examples of it being about where you finish and not where you start.
A high-flying wing who is headed to Texas, Mitchell is perhaps the premier wing defender in the class, his offense is emerging and his climb up the rankings has been something to behold as this time last year he only ranked No. 146 in the class.
Much like Mitchell, the rise of Whitmore has been meteoric. A tough and athletic combo forward from Baltimore who is ticketed for Villanova, Whitmore only ranked No. 111 overall this time a year ago. However, he saw his stock soar during the month of June when he played with high school teammates in front of coaches and his momentum continued all the way through the final ranking.
2022 COULD HAVE LOOKED MUCH DIFFERENT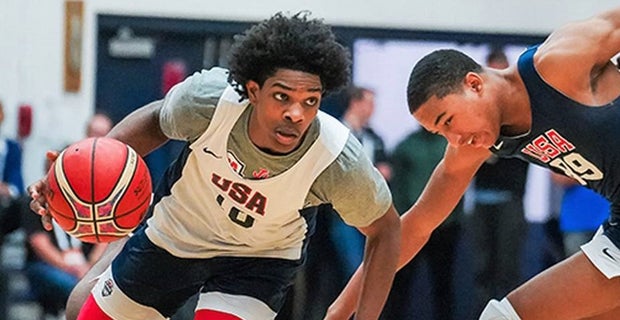 Reclassification and new professional options will go down in history for the major role they played in shaping the final 2022 ranking.
The trend of reclassifying players, or graduating early if you will, isn't new but it has certainly gained steam. After the 2020 rankings were finalized, 19 players from 2021 opted to move up a class and into the 2020 rankings. After completion of the 2021 rankings, 12 players that were expected to graduate in 2022 enrolled early or graduated early to pursue other options. That was to be expected and it will surely happen again this year. Among the most notable to enroll early were former No. 1s Emoni Bates, Jalen Duren and Shaedon Sharpe
What is new, though, is the creation of Overtime Elite. While the G League has only claimed one potentially rankable player from the class of 2022 (point guard Scoota Henderson who very likely may have landed at No. 1 had he remained in 2022 instead of graduating a year early), OTE has claimed another five who would have made the class rankings. Guys like five-star twins Amen Thompson and Ausar Thompson are still in the class of 2022 and not eligible for the NBA Draft until June of 2023. But they are pros at the same time and thus excluded from the rankings.
Overall, the class of 2022 is a solid class. However, if you were to add back in the nearly 20 players that could have been ranked nationally it would have been looked at as a pretty strong one. Consider the crop of players who could have been ranked No. 1: Bates, Duren, Henderson, Sharpe and both Thompson twins, plus Smith of course.
What those guys could have been ranked shouldn't take anything away from those that remained in 2022. However, it is something that will need to be considered down the road when we evaluate how this class turned out.
MOVERS, SHAKERS AND STILL ON THE BOARD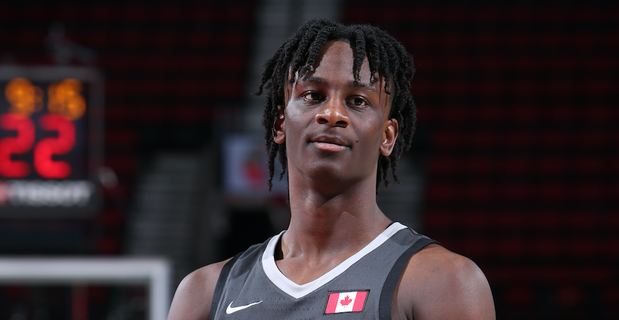 A total of seven players made their debut in the final 2022 ranking. Leading the way was Canadian small forward Leonard Miller who we slot at No. 26 overall as a four star-prospect. A big wing with some potential as a jump shooter, Miller is actually NBA Draft eligible and declared for the draft. But he's retaining his college eligibility and will choose Arizona or Kentucky if he chooses the college route and is the second highest ranked player left on the board. Some others in the industry are higher on Miller but given how late he emerged and how little we've seen of him in comparison to the rest of his class we've chosen to go the conservative route with Miller.
Among the other newcomers, there were three others that debuted as four-star prospects including New Mexico bound point guard Donovan Dent (103), Marquette signee Chase Ross (121) an Kentucky's most recent addition Adou Thiero who lands at No. 124.
Because this is the final ranking and we've made so many adjustments over the past few years, there aren't as many massive moves up the ranking. However, Dr. Orlando (Fla.) Phillips shooting guard Riley Kugel begs to differ after jumping 52 big spots from No. 100 all the way to No. 48 overall. Formerly committed to Mississippi State he's the third highest ranked player who is still undecided on his college future. Right on his heels is Dayton bound small forward Mike Sharavjamts who made a 48-spot climb from No. 150 to No. 102.
Only five members of the top 150 remain undecided about college. Miller and Kugel were mentioned above and the only five-star left on the board Julian Phillips (No. 18) will be announcing his college decision on Thursday. After those three only No. 123 Bobby Klintman (who recently decommitted from Colorado) and No. 144 Shawn Phillips (expected to announce next week) are still available.