Former BYU forward Gavin Baxter gets some shots up at the University of Utah during a summer practice session. Baxter transferred to Utah after the 2021-22 season. (Utah Athletics)
Estimated read time: 4-5 minutes
SALT LAKE CITY – Wearing red doesn't come easy for Gavin Baxter. In some ways, he's still trying to adjust.
The Provo native and Timpview High grad always desired the blue jersey of BYU. And for four seasons, Baxter wore those colors proudly as one of many family members that made BYU home during their collegiate life.
He worked tirelessly to make BYU the best program it could be during his time there after serving a full-time mission for The Church of Jesus Christ of Latter-day Saints. But his last three seasons ended all the same: early season-ending injuries.
With BYU on course for what was expected to be an NCAA Tournament season, Baxter's latest injury seemed to put a wrinkle into those plans as the Cougars struggled with depth at the forward position for the remainder of the season. All Baxter could do was watch as his time at BYU came to an end.
A month after the season ended, former BYU assistant Chris Burgess accepted a coaching position on the University of Utah staff, Burgess' alma mater, and Baxter entered his name into the transfer portal before eventually following his coach to his one-time rival school.
It was a decision to seek another opportunity to play, and one largely due to the move of Burgess.
"To be honest, if he wasn't coming here, I don't know if I can make the move," Baxter told KSL.com. "But he's one of the best big developing guys in the country. And for him to make the move, it made it a pretty easy decision for me to come in and work with him and continue to develop my game."
Burgess, he said, has the ability to "really break things down and then do it with a level of intensity on the court that guys are pushed." He's a coach that knows a player can get better and genuinely wants to see him do it.
"I think he just does a phenomenal job of that," Baxter added.
But turning in the BYU blue for Utah red has still been a bit of an adjustment period for Baxter.
"It's a lot more red, obviously, but it's been a pretty good transition," Baxter said. "The staff's great, players are really cool and just getting to know everybody and get the layout of the land, it's not been too bad.
"Obviously, it was pretty unexpected," he added. "If I took a snapshot of my life however many years ago and saw myself wearing red, playing at Utah, I think it's kind of crazy, but I think everything happens for a reason. Me being a lifelong Cougar fan, grew up in Provo , you kind of realize that it is a rivalry and all that, but at the end of the day, it's just another team up the road, and it's given me the opportunity to play another year.If anything, I'm just grateful. "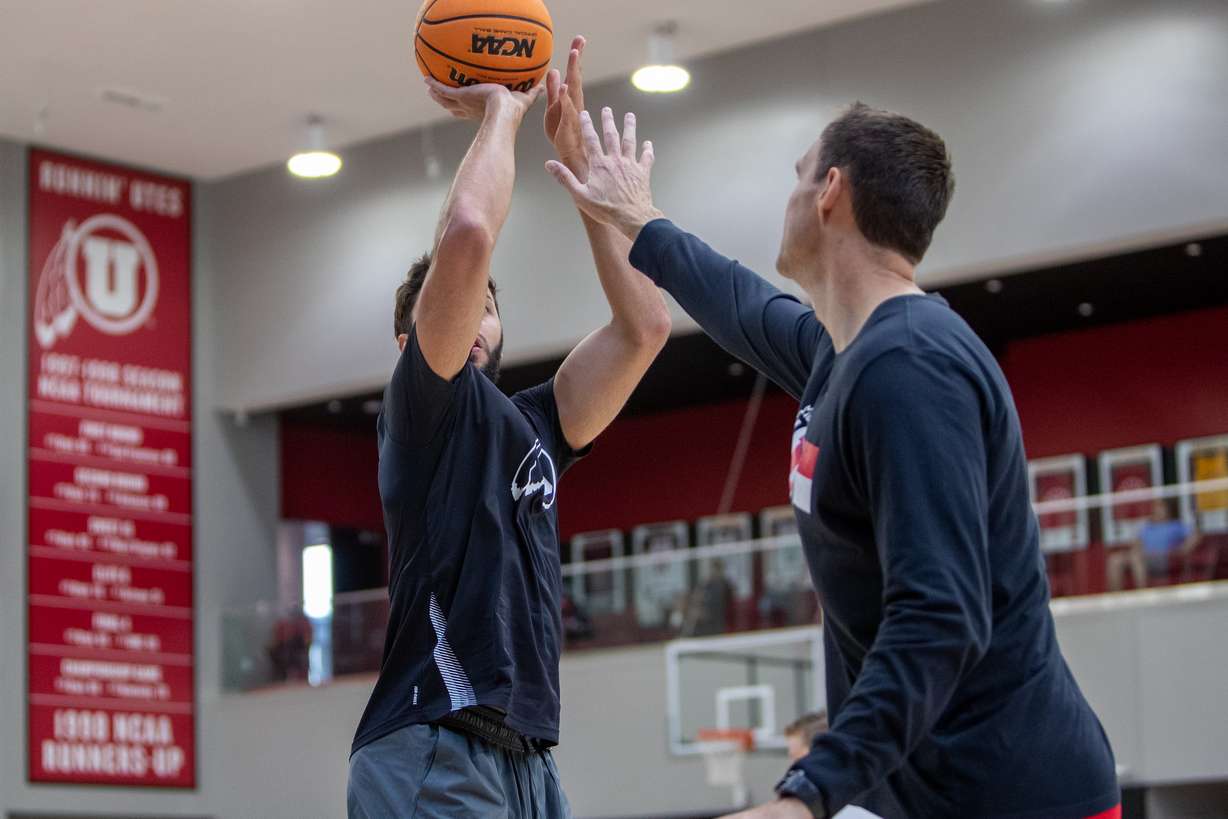 Baxter has been cleared to practice as part of the team's summer conditioning, he said, but he's still "a couple of months" away from full contact and being ready to suit up for Utah in a game. After three consecutive season-ending injuries, he's used to the rehab and the work needed to get back in shape, but the mental aspect associated with the game is still a work in progress, he admitted.
"Yeah, I mean, it's really frustrating; and more than anything, I think it's tested me more mentally more than physically," he said. "You get used to the rehab and training and trying to get in shape, but mentally, I think, it's where you really got to stay resilient. So that's something I've had to make sure I'm doing.
"For me, I think it's just a confidence thing. I've gotta get my confidence back in my body, my game. And once I get those back up to where they should be, I think the sky's the limit."
As head coach Craig Smith enters his second season leading the program, Baxter's eventual presence should be a welcomed addition, if not for depth and experience alone. But regardless of where Baxter fits in on the court when the season tips off, he hopes he finally gets a chance to showcase the talent many were excited about when he committed to BYU.
And even though the two team's are still rivals, Baxter said he's still a guy BYU fans can cheer for in the upcoming season.
"I'm a nice guy," he said. "We'll leave it at that."
×
Most recent Utah Utes stories
More stories you may be interested in